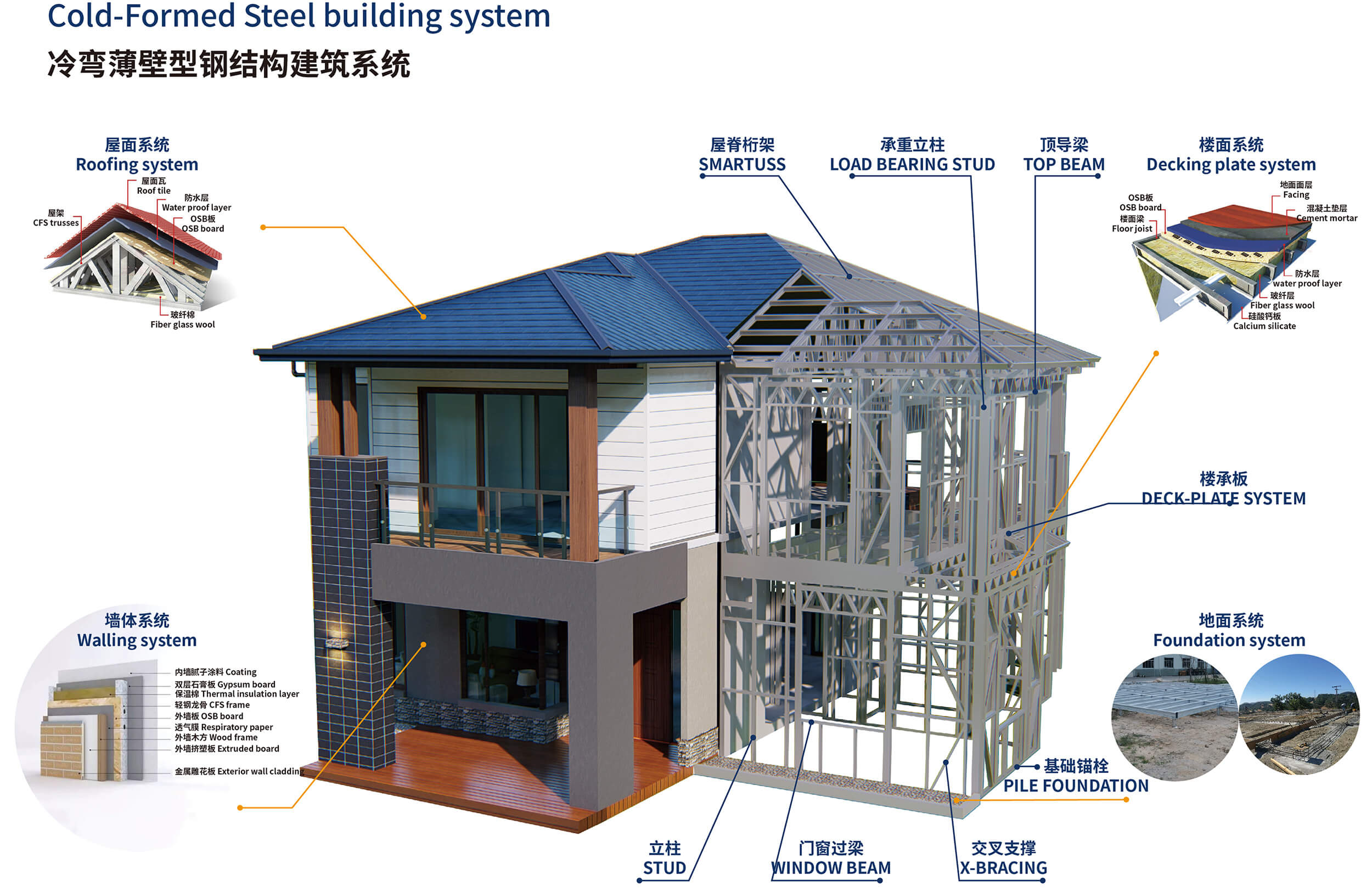 DaHeZhongBang(Xiamen) Intelligent Technology Co., Ltd.
Xiamen Dahezhongbang Construction Engineering Technology Service Co., Ltd. was established in January 2016 and
located in Xiamen, Fujian, China. It is a subsidiary of Dahezhongbang (xiamen) Intelligent Technology Co.,Ltd. , a listed
company of New OTC Market .
Accumulating technical elites from the global CFS building field and high quality resources such as frontier market
dynamics, new material information, establishing long-term professional cooperation with many well-known universities and
research institutions both domestic and abroad, the company dedicates to provide customers with comprehensive technical
service solution in architectural industrialization research, talent training, whole house purchasing and distribution, prettify
prefabricated building by intelligent technology.
The company has won praises from customers domestic and abroad for its compliance with specifications, high quality,
technology preciseness, professional service. Its products and services are marketed all over China and also exported to many
developed countries and regions around the world such as United States, Australia, Canada and New Zealand.
The company places steady strategy and has become earlier to invest and construct the 5-in-1 CFS building 4S -level
purchasing center which combines house selecting, experience, training, supermarkets and factories and embraces the CFS
building villa boutique park integration. This does not only realize the milestone of selling a house like a car, it also packs the
architectural industrialization into a tangible service product to create an innovative business model of prefabricated building
industry.
The company is determined to enable every family to enjoy the happy life brought by intelligent buildings, and provide
intelligent and comprehensive solutions for the prefabricated building industry which is more environmental friendly, safer,
comfortable , efficient and economic.To achieve the beauty of CFS building with intelligent technology.
Advantages
1. DAHEZHONGBANG is committed to learning and studying the Australian building system, the North American building
system and the Japanese building system of CFS building. The DAHEZHONGBANG 's current products and technologies are
at an advanced in china. The DAHEZHONGBANG is also engaged in technical exchanges with universities in china and the
other countries.
2. Have the best understanding of china market and product technology, and regularly organize and participate in various
Academic and Research conferences in china.
3. Leader of CFS building technology.
DAHEZHONGBANG is the council member of ACFSA(America-China Framing Steel Association). It actively participates in
the colloquium of CFS building technology between China and the United States.At the same time, Participated in the
"whole process of CFS building, all-professional integrated system integrated construction technology and
demonstration" led by the national civil structure prefabricated assembly engineering technology center. making the
technology always at the forefront of the world.
4. The forerunner of intelligent manufacturing
Sharing workplant, CFS building industrial internet, which is earlier intelligent model proposed by DAHEZHONGBANG.
5. DAHEZHONGBANG's current product series includes main of CFS building industry, equipment manufacturing, BIM
software development, CFS building material processing and prefabricate, and training system (technology and
construction). The perfect system will have a strong competitive advantage.
6.  Industry chain construction promoter.
The alliance of "the whole process of CFS building, the whole professional integrated system integrated construction
technology and demonstration", relying on DAHEZHONGBANG's leading advantage in CFS building, integrating industrial
chain resources to build a system integrator of green parts and components.
7. Advanced BIM modeling technology.
Integrity and shock resistance are the vital evaluation indexes of prefabricated
buildings. The design requirements, production requirements and installation
requirements are integrated into the BIM model, which greatly improves the building
quality and changes the traditional problems of design, production and installation
operating independently.