DETAILS
DAHEZB NLT350 digital intelligent purlin equipment is a symbol of digital intelligence. The equipment is highly integrated with intelligent software systems and mechanical hardware, achieving multi-standard, fast-changing, and high-precision production.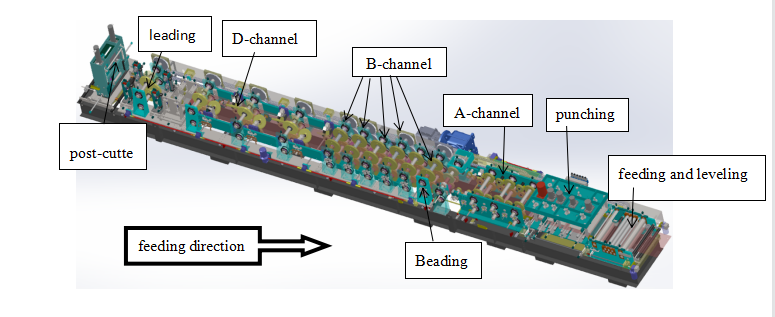 There are 22 sets of the main molding of the equipment (one of which is the waist-high forming 87-95 degree arbitrary adjustment group), equipped with 12 sets of CZ interchangeable modules, linear guide rails can be changed, and the switch can be completed by rotating 180°. The special 15.6-inch industrial control computer has a simple interface and is easy to operate. It is equipped with Dahe's self-developed intelligent production software. With a digital intelligent control system and fast input software, the production data can be quickly imported or remotely transmitted through a U disk. In the tedious work of multi-person collaboration in traditional factories, digital intelligent equipment may be able to produce smoothly with only one person and one machine, and complete scheduled tasks effortlessly, resulting in efficient transformation.
High driving energy, intelligent version servo motor 42KW+15KW hydraulic station, can complete the conventional 36m/min, comprehensive speed 15m/min-22m/min (according to the number of punched holes) out of the board, which helps to shorten the production cycle, Even when the order is full, we can deal with it calmly.
High precision, making C-type and Z-type production more accurate
The innovative double alignment design can calmly improve the accuracy of C-type and Z-type, greatly reduce the error correction steps in production, reduce the workload of employees, and save about 60% of production time.
Many specifications, high-cost performance
CZ interchangeable, one machine with multiple functions, patented step-less cutting and shape change, the length and hole position can reach an accuracy of ±1mm, and can be arbitrarily changed between C-type width 80-350mm and Z width 120-350mm, meeting the lips 8- 20mm (lips≤0.8*(height-20), height 30-100mm (height≤0.95*(bottom width-lips-30), production requirements of plate thickness 1.0-3.5mm, to ensure easy operation and high Operate based on precision, make order receiving more flexible, expand the capacity of enterprise orders, and make the scale go further.